With this new release, iPrint has features that deliver value to your existing printer ecosystem by bringing in ease of use, secure, convenience and confidentiality to your print experience. This release has many firsts and many new features which were requested by our customers.
On Demand Print: WalkUp Printing
Printing has always been considered to be a single activity but with a skewed people to printer ratio, along with the unpredictable nature of printers, created difficulty for a single activity.
So we split this into two.  Firstly you have the convenience of On Demand Print, where you may choose to print from any place, anytime and secondly to select any printer at a convenient time to release the job.
WalkUp Printing allows users to print to a WalkUp (Virtual) printer.  The print jobs sent to the WalkUp printer are put on hold by the iPrint Appliance server and can be released later to the desired printer.
WalkUp printing has several benefits to it in form of:
Confidentiality  - No more racing to the printer to grab your confidential print out
Convenience  - No need to install multiple printers
Flexibility to release the job to any printer near by
Improved productivity.  After submitting a job, if a user finds a printer to be out of service, they can release the job to another printer without submitting it again
Cost savings & Reduced paper waste.  Unwanted accidental printing is prevented by giving the user a chance to reconfirm or cancel his/her print jobs and by auto deleting the dormant jobs
Working with WalkUp printers is pretty simple and a simplified workflow (See Figure 1) explains all there is to it.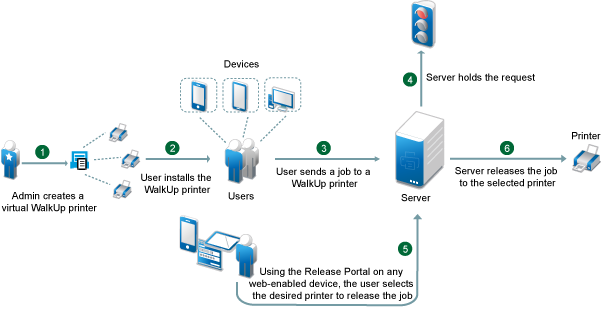 Setting up WalkUp printers is pretty simple from an Admin standpoint
Admin creates a WalkUp printer and group's compatible printers under WalkUp printer
Associates generic drivers to the WalkUp printer for various platforms
Sets the duration for auto-deleting held jobs at server
For an end user this is even simpler to use:
Install the WalkUp printer from IPP page
Provides credentials while installing (if not saved earlier)
Submits the job to WalkUp printer
Release/Manage the jobs using a newly designed web based release portal
New Features
More new features introduced in this release include:
Android Native Printing Support
Apple AirPrint Server certification.
iPrint Appliance Backup & Migration
iPrint Usability Enhancements
Platforms Support
Windows Client Enhancements
Certificate Management
With Android Native Printing support, the iPrint App has the following capabilities
Provides services for printing images and documents directly from Android applications.
This will publish iPrint printers from the iPrint app to the Android Native Printing framework.
This feature is supported on Android 4.4 (Kitkat) and above.
iPrint 2 is now certified as an Apple AirPrint server. This means that an iOS device can talk to the server instead of talking to the printer directly.
This brings control back to administrators, who can then enable/disable the advertisement of supported AirPrint printers from a single console. For more details on the AirPrint support, please refer to the iPrint help page.
Backup and Migration
iPrint2 backups have been enhanced to include the following features:
Automated backup will be taken every day at midnight
Back up all configuration files, eDirectory DIB, SQL databases, certificates, drivers, keystore, license, custom maps, etc.
Shows the latest backup status with timestamp
Gives Administrator the ability to trigger a manual backup
Option to skip drivers from taking backup
Displays approximate Primary and Secondary disk space requirement for backup
Option to download the latest backup file
Migration
With the earlier version of iPrint, zip based migration was the only possibility but with this release, the iPrint team have created a simpler and more intuitive disk based migration (see Figure 2), and it is supported from iPrint 2 onwards.

With this new method appliance configuration will be auto detected from the secondary disk and all the administrator needs to do is key in the password.  One click migration! (See figure 2).
iPrint Usability Improvements
One of the important changes with this release is that of Micro Focus rebranding.  It is really exciting to see refreshed UI labels.
There is a new element ordering in place for Mobile configuration and Driver Store configuration, which does away with the need for a service restart each time there is a configuration change.  Some of the unique features with this release are:
Updated screens all around
New intelligence to handle first time configuration
A new built-in picture guide to help setup that first printer
Newly bundled PCL4 driver
The Certificate management utility has been tricky to use in previous releases but with this release there are several enhancements to it including:
Regenerate the eDirectory certificate
Create/re-new self-signed certificates
Convert certificates from crt, pem, cer to pfx, p12 formats
Configure apache certificates
Ability to change the pass phrase
Repair all required certificates
Manage Digital Certificates using Management Console (PKCS12)
As usual iPrint has included support for the latest and greatest of OSs from the desktop and mobile ecosystem. With this release the iPrint team brings in support for:
Windows 10 and a new Windows 10 driver repository
Mac 10.11 (El Capitan)
iOS 9
Android 6
iPrint has incorporated many improvements in this release and many more are rapidly coming your way. There is much planned in the form of improved Apps, additional device support and the next phase of server features that we hope will keep you engaged.
If there are any additional features that you would like to see in the appliance, please enter them into the Ideas Portal at ideas.microfocus.com/mfi/novell-iprint.  Don't forget you can also vote on ideas that others have submitted.
This article was first published in OHM, Issue 33, 2016/2, p5-6.